10 Commandments of Manhood.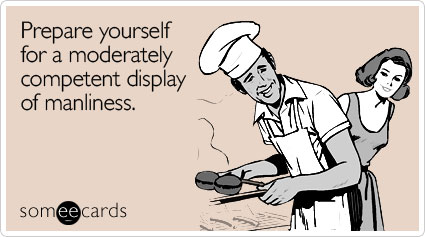 There are universal things that we should all do or not do. Like "thou shall not kill" and "thou shall not wear socks with your sandals." The majority of the population easily understand them. But lately, I've been seeing men neglecting some essential things to being a decent modern man. Unlike the ten commandments of certain Abrahamic religions, these have exceptions and latitude for interpretation. Apply them to your life as you see fit.
1. A man shall be capable of doing any household chores. Sure, it's fine if you have a maid service to get the professional touch once in a while. But will it kill you to clean your bathroom and wash the dishes on a regular basis?
2. A man's fragrance shall not linger longer than the man. When I walk out of an elevator with you, I should not be able to smell your cologne on my clothes.
3. And speaking of lingering, a man shall not linger at all. Are you staying or leaving? Pick one.
4. A man shall not own multiple pairs of going-out jeans. And they shall not be skinny jeans. The only two exceptions are: 1.) you work for a denim company, and 2.) you're Canadian. Buy one good pair. Wear them out until they're no longer acceptable for casual Fridays at work.
5. A man shall not ponder at the bar while ordering a drink. This applies at the coffee shop, too. At a certain age, a man should know his imbibing preference. Mine are vodka soda or simply bourbon on the rocks. Beer? Any mid-range lager or amber ale. Wine? Always red.
6. A man shall read real books regularly. Tucker Max is entertaining, yes, but not terribly thought-provoking. A well-read mind is a well-exercised mind. It makes you interesting. It doesn't matter if it's fiction or nonfiction. Just pick up a book with some substance and read it, front to back.
7. A man shall not use emoticons. This will not be justified with an explanation. Just don't.
8. A man shall know how to tie a tie. Even if you only know one knot, learn to perfect it for yourself.
9. A man shall be a competent repairman. Learn to be capable of performing at least one of these things: minor automobile repair/maintenance, computer troubleshooting, and fixing household items/minor carpentry. I once met a man who admitted that he didn't know how to put on a spare tire. I immediately demanded to see his man-card so that I could incinerate it with motor oil.
10. A man shall be decent and kind. Call your mom. Treat people who serve you with the utmost respect. Donate money or time to an organization doing good. Give up your seat on the metro. Don't pull out your cellphone and start taking videos when someone obviously needs your help.
These are just some of the often overlooked essential requirements for you to fully claim your manhood. For advanced reading, check out these other posts that will help you become a decent and competent modern man:
10 Things Women Want Men to Know
How to Shop Like a Man
The Art of Going Out Alone
Have Men Gone Soft?
Should I Kiss Her?
How to Do the Walk of Shame Like Man
6 Tips on How to Impress a Woman
Drink Like a Man
Dress Like a Man
The Morning After: Cook Her Breakfast
- Eric Wang
@ericspwang