I Love Blackout Wednesday in DC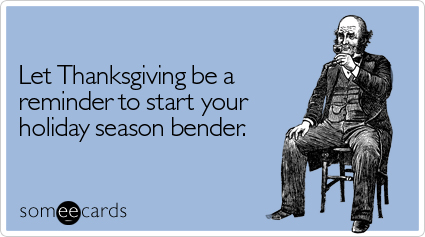 Tomorrow is Blackout Wednesday. If you don't know about Black Wednesday, let me enlighten you on why it is a great night to go out in DC.
I love this night in the District. Washington, DC has a large number of transplants, which means that a lot of people will be out of town. What does this translate to? Moderately filled bars devoid of tourists and undergrads, easy reservations at popular restaurants, and the following day, you'll be eating a shit ton of food, just like you always do when you're hungover. Except this time, it's encouraged and home-cooked!
For most of us natives, whose family is only a few miles down the road or in the exurbs outside the Beltway, we begin our Thanksgiving about 20 minutes before it's time to eat. Which means that we sleep in, wash off the smell of whiskey and take a leisurely drive on nearly empty I-66 to our respective homes.
It is pretty much the best day. Ever.
So, where should you go in DC for Blackout Wednesday? I recommend popular neighborhoods like DuPont, U Street or Adams Morgan. And Clarendon for you Arlingtonians. It's easy to barhop as you scope out the crowds in those neighborhoods. Smaller or less popular neighborhoods have a higher chance of emptying out early. Just because the city's half empty doesn't mean you should feel like you're drinking your sorrows away in Detroit.
Whether you're a native or a transplant who's decided to stay in the District, I suggest you take off work early tomorrow. Get a nap in. Call all your friends still in the area. Go to the gym (to offset the next 24 hours). Then head to your favorite bar in any of the above neighborhoods. You won't regret it.
And as always, don't drink and drive. Happy Blackout Wednesday (and Thanksgiving)!
- Eric Wang
@ericspwang